Welcome to Snacks Creek
By local foodie Zane Jackson
A humble 2km stretch of asphalt that takes in some of the best multicultural cuisine in Logan? Welcome to Snacks Creek (formerly known as Slacks Creek), where a corridor along Kingston Road serves as your expressway to the most interesting food options in Logan.
Restaurants. Grocers. Sweet stuff. Coffee. All of life's essential items are here. Never been? Let's take a cruise.
You could almost call it the Middle Eastern Mile. At the top end you'll find Little Middle East and Baalbek, two great restaurants serving tasty Lebanese fare.
Just around the corner is the acclaimed Sooo Sweet bakery with their wide range of baklava, other sweet goods, and coffee.
You're well served for a Afghani options with Shahi Nan Kebab within walking distance and family favourite Charcoal Kebab down at the southern end of the corridor.
On the opposite side of the road* is the relative newcomer Erbil Bakery, a Middle Eastern bakery with an Iraqi flavour.
After something from the subcontinent instead? There's an amazing authentic Indian restaurant in Kulcha Kulture, with menu items that highlight their Amritsari heritage, while Brisbane Indian Sweets And Snacks is a store that delivers on its name. While they serve other meals, Roll Points' signature paratha rolls are a good quick bite option.
Feeling like something from our neighbours across the ditch? Taua's NZ Bakehouse has the sweet and savoury baked goods that will have you dreaming of Aotearoa, while Sia's Takeaway delivers a hearty servings of favourites from the Pacific.
For something completely different, King's Footlong German Sausages is another option to keep in mind.w
While not in this two kilometre stretch, it is always worth remember that on the other side of Snack's Creek is one of Logan's premier cafés, Extraction Artisan Coffee.
Please note that this is not an exhaustive list of everything in the area, just places I've personally stumbled across and found interesting. If I've missed anything, please tell us about them!
*technically not in Slacks Creek, but if I can throw a stone from Kingston Rd and in theory hit your car park, it counts. My list, my rules.
————————————————————————————–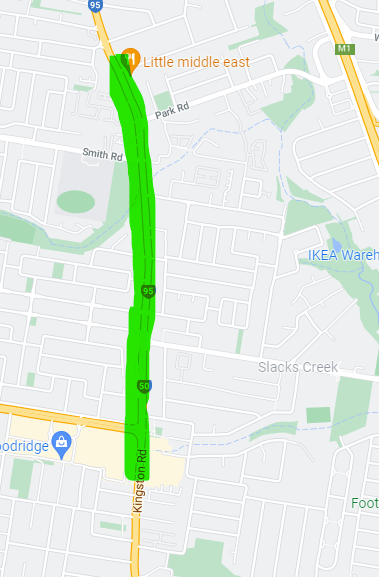 214 Kingston Rd, Slacks Creek QLD 4127
Don't drive past this gem just thinking it is another suburban Indian restaurant pumping out mild butter chicken and naans to unadventurous Aussies. These restaurateurs previously operated an eatery in Amritsar, in India's north west, but have since moved to our shores and opened Kulcha Kulture here in Logan. It's hard to know where to start when talking about the good things on offer here: the Amristari kulcha and lassi, the best biryani I've ever hard (coming from an Indian cuisine veteran over here), the wide array of street food (aloo tikki chaat, samosa chaat, bun tikki) along with some classic Indian restaurant fare (yes you can get butter chicken for you kids/boring friends). Plenty of vegetarian options too.
3/214 Kingston Road, Slacks Creek
This is a favourite dinner haunt for my family, with favourites including a delicious mixed grill (of kebabs cooked over charcoal with rice, salad and dips/sauces), manoush (think Middle Eastern pizza) and shish barak (lamb dumplings in a yoghurt sauce). However, something that is vastly underrated with Lebanese cuisine is the breakfast offerings. If you're ever sick of cereal and toast at home, and you want something different to normal café fare, give breakfast here a try. The fatteh (chickpeas, fried bread, tahini and yoghurt) and hommus with foule (chickpea, fava beans and tahini) are extremely tasty, and the Feast from Middle East big breakfast is perfect for a big breakfast. Vegetarian options too.
10/250 Kingston Rd, Slacks Creek
The owners here previously had a restaurant in Brisbane but saw the light and came to Logan instead. This is just a few hundred metres away from Little Middle East and while they do have a lot of menu items that cross over, what differentiates Baalbek is their great range of platters, which are perfect for sharing amongst family/work teams. You'll find another great charcoal cooked mixed grill plate among these platters, along with some great mezze dishes (both vegetarian and meat – gotta snap up those vine leaves). As mentioned previously, Lebanese breakfast meals are a great option and Baalbek has plenty to choose from, including one of my favourite every morning dishes – hommus with lamb! Incredible. Great vegetarian share plate as well.
hop 6A/382-390 Kingston Rd, Slacks Creek
If you've never been here or to their other restaurant in Logan Central, just hit alt-ctrl-delete and lock your computer right now or drop your phone and just get down there. You'll find a great variety of charcoal cooked kebabs here (noticing a theme?) as well as some delicious stews, including my death row meal (the Persian stew gormeh sabzi aka green herb and kidney bean stew) and my family's absolute favourite takeaway dish – mantu dumplings. You don't have to be a vegetarian to appreciate the okra or eggplant stews as well. Did I mention it is great value for money? Get down there.
6/7 254 Kingston Rd, Slacks Creek
If your bakery is renowned enough for British chef Ainsley Harriot to have featured it on TV, you hardly need an endorsement from me. Well here it is anyway: Sooo Sweet is the absolute go to for anything sweet related in Logan. Anytime I take out-of-towners out in Logan, I always finish at Sooo Sweet before sending them down Paradise Rd and back on to the highway. Why? The range of baklava and other sweet goods is incredible, the staff are amazing, and everything tastes as good as it looks. Add in the fact that they serve coffee and are open until late and you get a no-brainer must-visit destination.
Shop 12/390 Kingston Rd, Slacks Creek
You don't need to be a L&P sipping, jandal wearing, All Black backin' kiwi to appreciate this great little bakery that's tucked into the back corner of a shopping complex. Just avoid it if you're on a diet – the afghans, long john donuts, pies and slices are just too tempting to ignore. What this place lacks in size it makes up for in taste.
Sia's Takeaway (Pacific Island)
7b/390 Kingston Rd, Slacks Creek
I haven't eaten here yet, but it is well reviewed on Google and is always packed after church on Sunday, which is always a good sign.
Tin Tin Chinese Takeaway (Chinese)
2/390 Kingston Rd, Slacks Creek
I haven't eaten here yet but I've heard it is a longstanding local fave.
King's Footlong German Sausages
7/264 Kingston Rd, Slacks Creek
As per the name!
1/3 Noel St, Slacks Creek
Delicious paratha rolls, also has other meals like biryani.
2/254 Kingston Rd, Slacks Creek
This is a kebab store (skewered meat cooked over coals) next to a doner kebab store (the ones you'd have at 3am on the way to the taxi rank after a night out). It has a range of kebab and stews cooked in the Afghan way. Bonus: it's metres away from Sooo Sweet if you have enough room in your stomach.
83-84/2-24 Wembley Rd, Logan Central
Delicious manoush, and amazing falafel. I had the Iraqi falafel wrap and it was incredible!
Just some of the delicacies on offer in Snacks Creek....