Logan's paradise for chocolate lovers
Nothing says 'love' quite like gourmet chocolate, says Poppy's Chocolates founder Lynda Pedder.
The lifelong chocolate enthusiast and founder of the beloved Beenleigh chocolate factory, supplier, retail shops and café says her passion for chocolate hasn't diminished since launching in 2005.
'Giving chocolates to someone is a physical representation of love – it's the closest you can get to love in food form,' she says.
'Chocolates are an experience. It's more than just getting a chocolate fix, although we are about that too.'
And she says if you're going to eat chocolate, make it a 'wow' experience!
Lynda started making sweets with her nan as a child and dabbled in chocolate-making as a teenager with a friend (who now also professionally makes chocolate in Sydney).  She initially launched a chocolate café before moving to her premises and launching the Poppy's brand, named after Lynda's childhood nickname.
Poppy's has proven not only popular – it's resilient too.
First the global financial crisis, and then COVID 19 rattled Poppy's, which supplies chocolates to a range of hotels and restaurants as well as having a retail shop in Beenleigh and one in Robina. Robina also houses a café.
'Owning a business is always a rollercoaster, and when COVID hit, we lost 90 per cent of our wholesale business overnight,' Lynda says.
'We had to close the shop completely – and for a chocolate shop to close a couple of weeks before Easter is just crazy.'
Like many businesses, Lynda realised early on she would have to go online to survive.
'The online business has gone crazy through COVID. We launched it in November 2019, and between then and the beginning of Mach 2020, we had only made about 17 sales – so it's not like we had this store that was going great. We really had not ramped it up at all,' Lynda says.
Turning to social media, Lynda grabbed her phone and recorded herself. Her face is familiar to her 20,000 online followers now, but the first video she starred in was a call to the community.
'It was me basically saying, look, we need help and please support us,' she says.
'We ended up selling every single one of our Easter eggs.'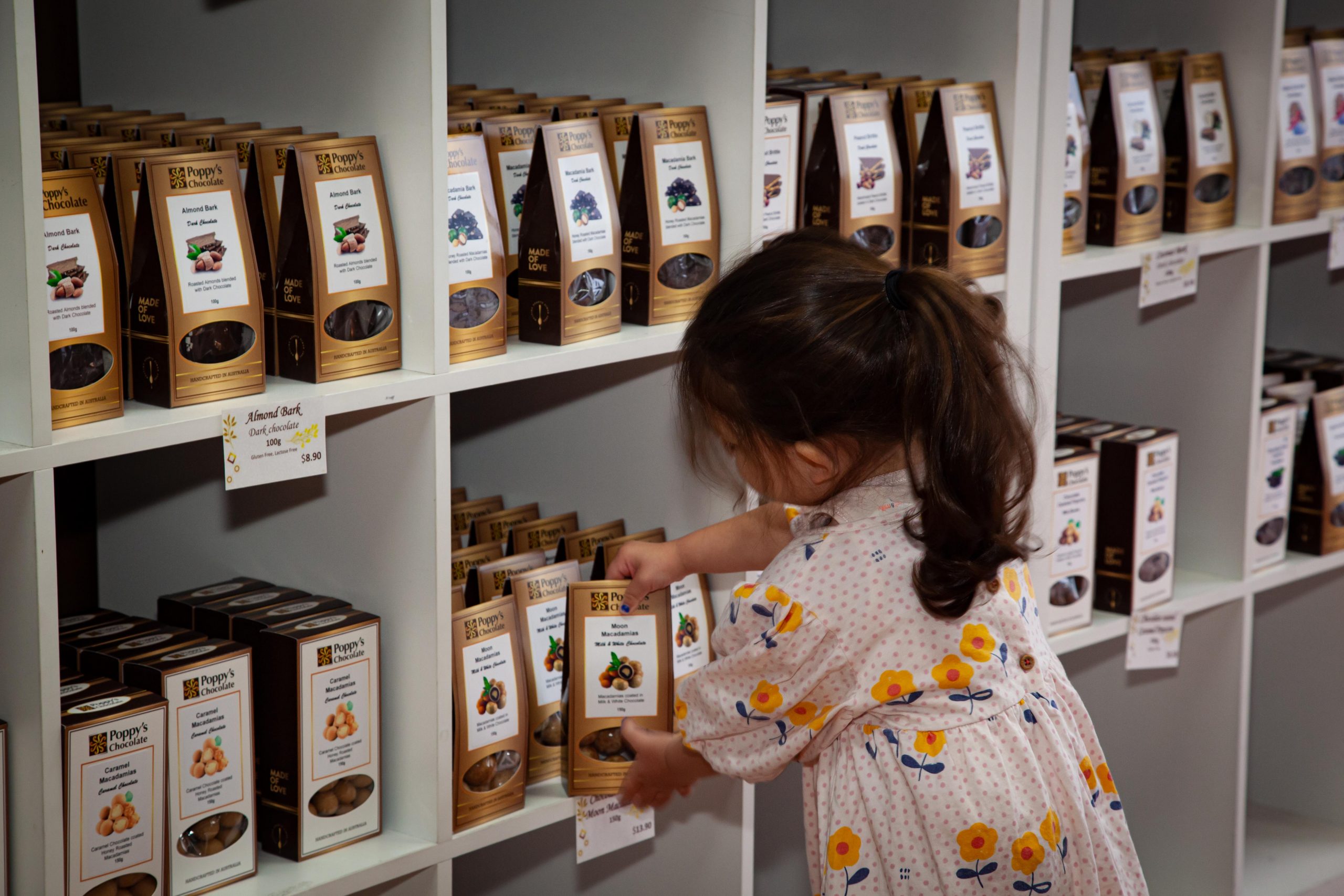 "If you're going to eat chocolate - make it a WOW experience!"

—
Lynda says the community has always been supportive, with customer feedback driving many of Poppy's business upgrades. 
When she started Poppy's, it was simply a chocolate factory – but locals wanted to know where they could buy the gourmet chocolates, so when the space next door became available, the team set up shop. 
'We thought, if we can just make enough to pay the rent that's fine – but it really took off and we had busloads of people coming here,' says Lynda. 
Keen to see where how the delicious chocolates were made, the community rallied for a viewing space, which soon evolved into holiday –chocolate=making workshops for budding young chocolatiers. 
Lynda's online business has now taken off in such a way that she no longer has space for viewings or workshops. Not to worry though – she's still planning on connecting with her community. 
'This year, I really want to look at some online classes, so that people can come here and buy a kit, then go home and make their own moulded chocolates,' she says. 
'It's a bit more entertainment and a connection with the community that has supported us so well.' 
Lynda's recommendations 
FAVOURITE ITEM – chocolate covered lychees, Insanely Delicious Waffles 
MOST POPULAR ITEM – caramel rocky road 
VALENTINE'S CLASSIC – chocolate foil hearts 
Poppy's Chocolate online chocolate shop (poppyschocolate.com.au)