Division 2, Movers + Shakers, People of LoganJanuary 18, 2022 / 5 minute read
A world of food: Logan Central's Golden Circle
Nestled in middle of Logan Central is one of the most culturally diverse concentrations of unique food offerings in Australia.
Within this 200-square metre cultural epicentre, you'll find Middle Eastern bakeries and restaurants, Indian and Afghan supermarkets, a Burmese restaurant, and businesses offering a host of African, Asian, European and Pacific Island produce and groceries.
Thanks to a local food lover, it now has its own identifier: the Golden Circle.
Zane Jackson, a Logan local who works at Logan City Council, coined the phrase when sharing walking-distance lunch recommendations with colleagues.
It all started with Zane looking to mix up his lunch selections. 'I've had sandwiches for lunch my whole life. This amazing array of food is right on our doorstep here at Council, so I thought, why not try it out?'
He found a wealth well-priced delicious food on the other side of the railway line, made and sold by interesting people, many of whom came to Australia as migrants or refugees.
'Sometimes there are language barriers, but these are small businesses and they want you to be there. I've met some truly lovely people and had some great conversations,' Zane says.
"I've had sandwiches for lunch my whole life. This amazing array of food is right on our doorstep here at Council, so I thought, why not try it out?"
— Zane Jackson
One of the benefits of having several hundred staff working in the City Administration Centre is the boon it provides to local businesses – especially food outlets – and Zane was keen to share his experiences with colleagues.
So, he put together a list of all the places he'd discovered within this one-block radius in heart of Logan Central. He initially shared it directly with food-loving colleagues, and then posted it more broadly onto Council's Yammer site (an internal communication channel).
One of those food loving colleagues was Justin Thiang of the City Transformation Branch. Justin knew Griffith University's Homebase incubator (part of the Yunus Centre at the Logan Campus) was looking for examples of food innovators as part of its Loganly Grown project. He passed on The Golden Circle list (and Zane's crack at a map).
The Yunus Centre and Homebase teams were so inspired, they formalised the map, and The Golden Circle moniker. That map is now part of The Yunus Centre's Food Projects (Food (griffith.edu.au), where the team is experimenting with the idea of making and re-making maps of local places to spark new conversations and inspire communities to see new opportunities.
For the Yunus team, the concept of The Golden Circle and highlighting other local hotspots is helping to strengthen food culture in Logan.
The Yunus Centre Co-Director, Professor Ingrid Burkett, acknowledges food and the sharing of food as a connector and central to civic innovation.
'Food helps us to ground ourselves in place and culture, but it also creates bridges for speaking across cultures, across regions, and across traditions,' Prof Burkett says.
'It is the foundation for our communities, and it's around a table, making and sharing food, where we can really form the relationships necessary for communities to imagine new futures.
'We think that local "food detectives" like Zane, who are passionate about unearthing the unique offerings of Logan, will be key to growing local pride and awareness of the special things Logan has going on.'
Zane has also coined the term 'Snacks Creek' to describe the cluster of food options in Slacks Creek.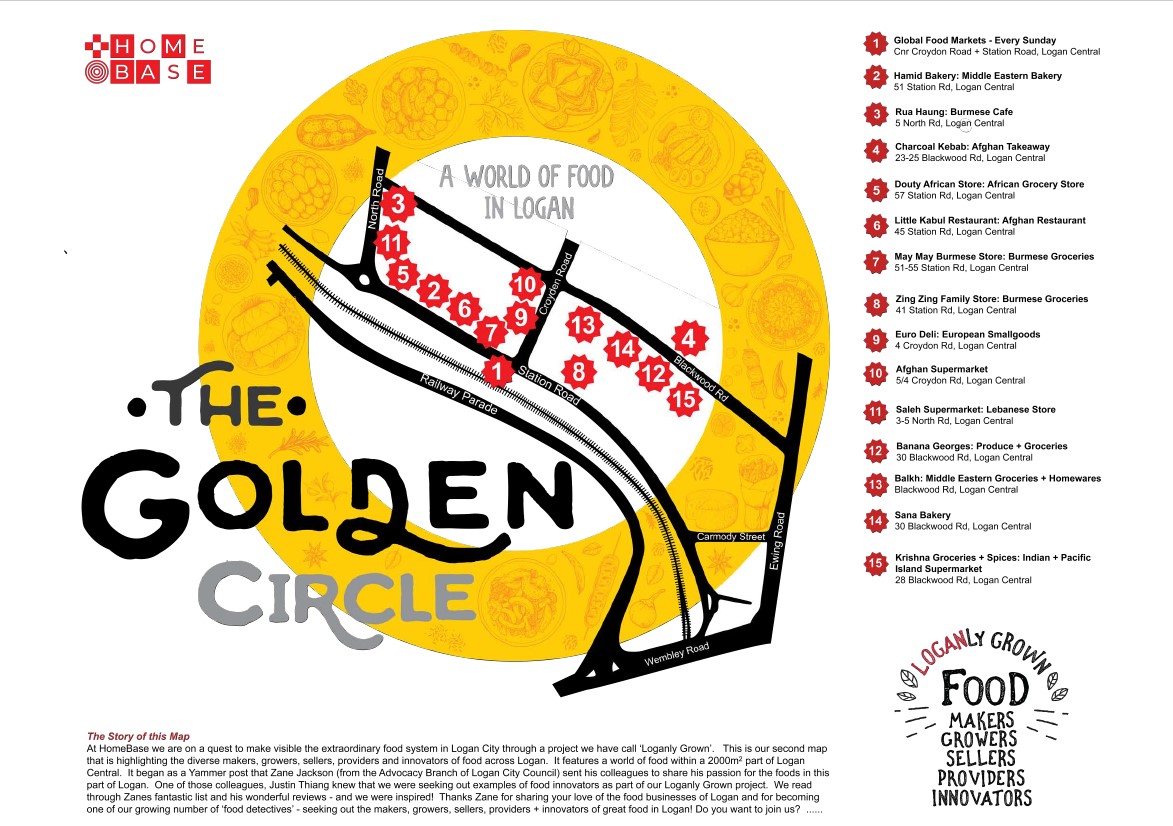 (Ed note: Zane has also since discovered Feast Classics [Middle Eastern cuisine] at 41 Station Road.)
By Zane Jackson